Rolex has always been one of the premier luxury watch brands, as well as a tangible, elegant symbol of success. Because of this status, it's certainly no surprise that Rolex has been repeatedly seen on the wrists of some of the most respected and accomplished people throughout recent history.
In the coming weeks, Jonathan's Fine Jewelers will feature several iconic Rolex watches and their famous wearers. This week, we want to take a look at the watches of the most powerful men in the free world: United States Presidents.
To do this, we had to dig back in the history books a few decades. As times have changed in America, so too has the amount of influential politicians that are seen wearing a Rolex. Politicians have recently become more concerned about connecting with the general American population, rather than being associated with the wealthy elite. You won't find pictures of Obama or George W. Bush sporting a Yachtmaster II or a Rolex Milgauss any time soon! Even Bill Clinton favored a Timex Ironman (yes, seriously…we are shocked too) over his Rolex.
Fortunately, we've had some Presidents that weren't afraid to show their success.
Here are our top 5 Presidential Rolex Watches of the past:
Dwight D. Eisenhower – Rolex Oyster Perpetual Datejust
The 18k yellow gold Rolex Oyster Perpetual Datejust was worn by President Eisenhower on several occasions throughout his time in office, and was unbelievably significant for the Rolex brand. Not only was Eisenhower the first known president to wear a Rolex, but this watch was a gift from the Swiss watchmaker to celebrate their 150,000th certified chronometer. It eventually became the inspiration for the Rolex 'President' line of watches.
The watch featured a matching 18k yellow gold Jubilee band, as well as Eisenhower's "DDE" initials and a 5-Star General's insignia on the watch-back. Eisenhower eventually gave this watch to his long time valet driver and friend, Sgt. John Moaney, for his faithful service.
John F. Kennedy – Rolex Day-Date
Of all the presidential Rolex watches, Kennedy's famous watch was surprisingly more popular for the story behind the gift than it's owner. The Day-Date was a birthday gift given to President Kennedy by Marilyn Monroe just days after she sang her famous rendition of "Happy Birthday Mr. President" in Madison Square Garden.
The yellow gold Rolex Day-Date came with an inscription on the watch-back that read: "Jack – With love as always from Marilyn – May 29th 1962". The watch was reportedly given by Monroe to Kennedy's aide, Kenneth O'Donnell, with the intention to have it delivered to the President. When President Kennedy caught wind of the gift, he asked O'Donnell to "get rid of it" (smart move). The controversial watch was eventually sold at auction for $120,000 in 2005.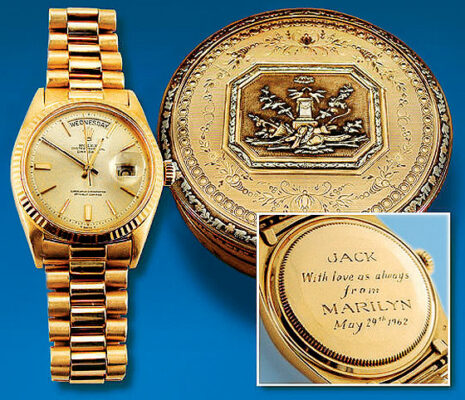 Lyndon B. Johnson – Rolex Day-Date
Johnson's 18k yellow gold Rolex Day-Date was only the second known Rolex to be worn by a United States President, and is thought to be another main factor in the creation of the Rolex's popular 'President' watch line.
Johnson's watch was very similar to Eisenhower's watch shown above, with the exception of the band. Rather than making use of the 'Jubilee' band, President Johnson's Rolex featured the 'President' band. This watch helped further cement Rolex's place as the watch for accomplished men.
Ronald Reagan – Rolex Datejust
While there isn't much information out there about Reagan's watches, we DO know that he wore a stainless steel Rolex Datejust with a jubilee band. Reagan was the second President after Eisenhower that owned a Rolex, which continued the tradition of powerful men wearing the brand. Below is a picture of Reagan wearing his Rolex Datejust as a civilian before his political career began: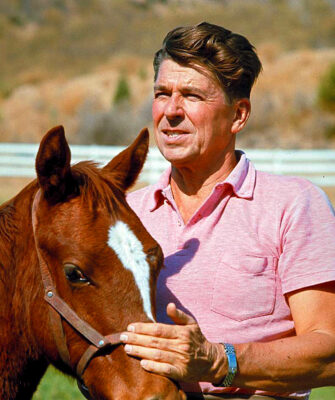 Bill Clinton
As previously mentioned, Bill Clinton was often seen wearing a Timex Ironman during his Presidency, but don't be fooled – Clinton is a Rolex owner (among several other fine watches). Clinton was one of the first Presidents that tried to distance themselves from fine watches during their time in office, but he came back with a vengeance after his Presidency.
The former POTUS is known to have a PVD-coated Pro-Hunter Submariner, as well as a Rolex Day-Date. We have even seen him wearing an A Lange & Sohne Grosse Langematik Gangreserve, Audemars Piguet Jules Audemars , Jaeger LeCoultre Master Compressor Alarm Navy Seals, Shinola Runwell, and Vulcain Cricket.
Not exactly watches of the people…unless you're one of our customers.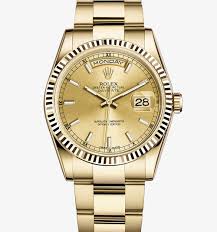 Want to feel like the most powerful man in the world? Make an appointment and stop by Jonathan's Fine Jewelers to find your own Rolex Day-Date or Datejust (or any fine watch, we literally have them all). If you want to see how we wear our Rolex watches, check us out on our personal Instagram accounts!